Posted on Thu, 2011-09-22 10:15
Things never go how you envisioned them to, and quiz shows are no exception to this theory. Throughout the years we have been treated to a whole variety of weird and wonderful cock-ups on the box and here is our pick of the best of them.
1.Million Dollar Drop
Quite a few quiz shows have got their own questions wrong including QI, The Weakest Link and Blockbuster, but when the answer is for a whopping $1,000,000 the stakes are slightly higher. That is exactly what happened to American couple Gabe Okoye and Brittany Mayti on Fox network's, "Million Dollar Money Drop," The couple bet their $800,000 they had already won and were asked which was invented first, the Post-It Note, Sony Walkman or Macintosh Computers. They quickly took Macintosh out of the situation and after some deliberation they settled on Post-It Notes.
After answering the question the couple were told they were wrong as the Post-It was available in 1980 while the Sony Walkman was released in 1979. The couple then left the show empty handed after betting their $800,000 and failing.
Several days later viewers had questioned the quiz shows answer, claiming that Gave and Brittany gave the correct answer. It turned out that Post-It Notes originally were sold under the name Post-Its in early 1979, before Sony's Walkman. After this came to light the shows executive producer sent our a statement apologising to couple and invited them back on the show to continue playing.
Click here to watch footage of the couple getting the right answer and losing.
2. Catchphrase
We love Catchphrase here on BrainDash. It is one of those quiz shows that we just wish would come back (along with Roy Walker). The show has had a few famous bloopers such as the 'Snake Charmer' blooper which has Mr Chips doing something rather naughty, but my favourite is when new host Nick Weir had a slight accident.
While making an energetic entrance to the show the pumped up host lost his footing and fell down the stairs. After getting up the host confidently said, "I'll be alright." It turns out that he was not though, the fall had broken Weir's foot and filming had to be postponed for a day. Oddly the clip was left in, the host explained that he went to hospital and the rest of the episode was filmed with Weir in a cast and on crutches.
Click here to watch Nick's famous fall.
3.Who Wants To Be A Millionaire
You have heard about getting a question right and not getting your prize, but what about getting the question wrong and running away with the money? That is exactly what happened to Who Want To Be a Millionaire contestant Tony Kennedy who walked away with a cool £125,000 after answering his last question incorrectly.
Host Chris Tarrant asked Mr Kennedy, "Theoretically, what is the minimum number of strokes with which a tennis player can win a set?" My Kennedy replied with the answer B-24, when the correct answer was actually A-12.
Nobody is really sure as to why the blunder was initially allowed, especially as the question is a simple mathematical one. Mr Kennedy was allowed to keep his money and must consider himself one of the luckiest quiz show contestants ever. If he had been picked up on his error then he would be £93,000 poorer.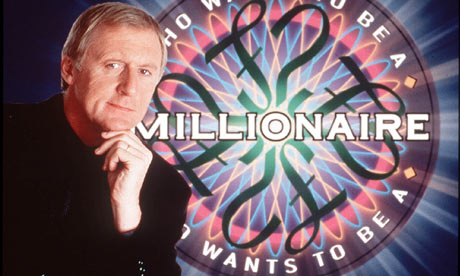 4. Countdown
While this is not strictly a trivia quiz show, Countdown has had several bloopers such as this one and has earned the right to sit in this list. The show has several different word and number games in each episode. The most common one is the letters round. Here one contestant will pick random letters, asking for either a constenant or a vowel.
Naturally the nature of how the letters are picked means that any word could appear. As the contestant asked for their letters a rather rude word seemed to be spelt out. This was cut from TV as Countdown in the 1980s as the show airs before the watershed, but the incident has managed to root itself in game show history.
Just two years ago the notorious word cropped up again, this time in a contestants answer, rather than being spelt out correctly. Channel 4 decided to air the episode and bleep the word out since.
Want to see what that magic word was? Click here to watch the video on youtube.